News archive

18.10.2019
Dev Diary: Halloween Event 2019

Dear Settlers,
As this year's Halloween Event is creeping around the corner, it's time to feast your eyes on the newly published Dev Diary and find out more about the upcoming features:
New General: Recruit the Younger Gemini General!

New Explorer: Recruit the Bewitching Explorer!
New Buildings: Build the Spooky Bronze Mine and summon a Ghost Ship!
New Balancing: Changes to Golems, Pumpkin refillers and Adventure loot!

New Seasonal Adventures: Rewarding 2x experience points on completion!


Read all the ins and outs of this year's Halloween Event in our Dev Diary!
Happy haunting!
BB_Malkun

17.10.2019
Special one-time offer!

Dear Settlers,
When you're out trick-or-treating this Halloween season, why not add some Gems to your candy bags? We're offering exclusive Halloween Gem Packages!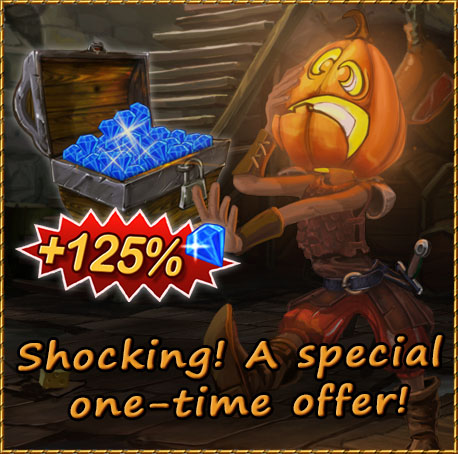 End: 18th of November 2019
Bonus: +125%
Restrictions: One purchase per player

If you're still eligible to purchase a Starter Pack, the Halloween Promotion Packs will take its place until either they are bought, or the offer ends.
Creep on over to our spooky shop to find out more!
Happy Halloween!
The "Settlers Online" Team

14.10.2019
Game update - 15.10.2019 [done]

Dear Settlers,
A game update is scheduled for Tuesday.
This update will include the currency conversion for the anniversary event items, along with a script to exchange doubled blueprints and more!
During this time, the game will be unavailable.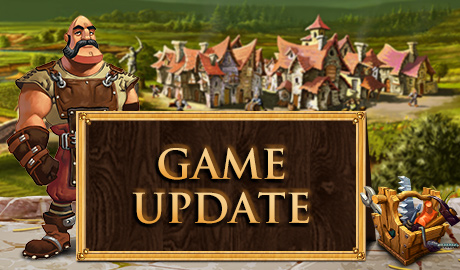 Day: Tuesday, October 15th
Game Worlds: (1 - 3) Closed
Start: Approx. 08:00 CEST
End: Approx. 12:00 CEST
Adventures & Premium: Times will be extended
A full Change Log has been posted on our forums.
Happy Settling!
BB_Malkun

08.10.2019
Change Log 15/10/19

Dear Settlers,
This update will feature the technical implementation of this year's Halloween Event, along with some bugfixes and more!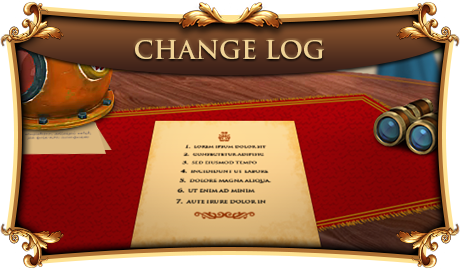 Read more about the upcoming version in our Change Log.
Happy settling,
BB_Malkun

08.10.2019
Data Maintenance [done]

Dear Settlers,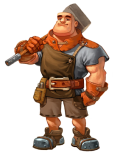 On Wednesday, 9th of October, an IT infrastructure task will require the game servers to be taken offline.
Please plan your game activities accordingly.
Date: 09.10.2019
Timeframe: approx. 02:00 CEST - approx.

12:00

04:03 CEST
Game: All gameworlds offline
Adventures & Premium: Times will be extended
Happy Settling!
BB_Malkun

02.10.2019
Test Server: Halloween Event

Dear Fans of the yearly spooking,
October has officially begun - with the start of the spooky month, we prepared a small "Trick or Treat"-Course!

Pack your bedsheets & rattling chains and prepare to haunt the >test server< by exploring ghastly figures and spooky places!

Happy haunting!
BB_Malkun

27.09.2019
New Season!

Dear Adventurers,
A new season will start next week that will provide you with a bonus on resources, refillers and exp!

Can you guess what this season is about? Which adventures will be boosted? Share your ideas in our >forum<!
When: 30.09.2019, 10:00 CEST - 07.10.2019, 10:00 CEST
Happy Settling!
BB_Torkav

24.09.2019
Comic Book Day

Dear Comic-Lovers,
Comic books are stories about interesting heroes and individuals that often lead action-packed lives.

Do you know a person who's a true hero? Maybe you can think of your very own hero; what powers would they have and how would they help others? Share your creations in our >forum< and read some interesting comics and stories of our community!

Enjoy the Comics!
BB_Torkav

18.09.2019
Forum Spotlight: Manuakash

Dear Settlers,
Check out this awesome new edition of The Settlers Online Times newspaper created by Manuakash: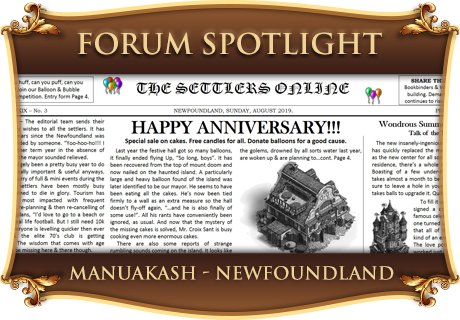 Check it out on the forum!
Happy Settling!
BB_Torkav

12.09.2019
Your estimations for this event

Dear Celebration-Specialists,
The event is moving on and many settlers are donating balloons. We would like to see some of your guesses for this event.

Join the <forum> and share your personal estimations.
Have a nice anniversary!
BB_Torkav